How's it going? Betrayed anyone during a Co-Comm Title match lately?
Kadorhal's been around LPF since early 2009 and (before LPF allowed for different amounts of posts per page) would frequently make the first post on a new page of a thread, giving him his title of 'The Pagemaster.'
He primarily LPs first-person shooters and action games released on the PC, and is best-known for his Postal 2 LP.
Recently, following the removal of Black and Cyrekk from the staff, Kadorhal, along with Junpei Hyde, has been promoted to LPF moderator.
In LPFWA Season One
Edit
Kadorhal had a really poor start in the LPFWA. Debuting in a championship match for the Co-Commentary title, he inadvertently because the most disliked wrestler in the LPFWA after he refused to tag in for his partner, Mecca Prime numerous times in their match against SoapyNome and QuantumCrayons. This has led to him being the biggest heel in the league.
In the second broadcast, Mecca got his revenge on Kad in a standard match, when Mecca very handily took Kad down via submission. Since then, Kad has just become more and more over the top. Following the 2013-07-20 match with Cyrekk vs. Mecca, Kadorhal came in, brandishing a chair in an attempt to attack Mecca. Cyrekk took him out just before leaving.
Kad's career has been all downhill, and everyone agrees when they say:
"Fuck you, Kad!"
In LPFWA Season Two
Edit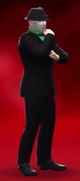 Many are uncertain if Face is Kadorhal, as he refuses to take off his mask, but many figure Face is the same person as Kad.
Non Royal Rumble Record
Edit
Season 2 Record
Edit
Season 1 Record
Edit
Community content is available under
CC-BY-SA
unless otherwise noted.